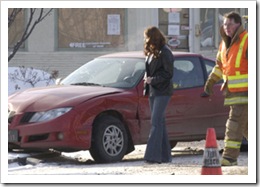 As I was working through the possible advice we could offer to MT, the mom whose Au Pair just backed into a BMW, I realized that we need to focus on the really big picture– that is, how to manage the damage that an Au Pair's car accident can do to your relationship with each other.
As long as no person was physically hurt in the accident, your biggest challenge as a host mom (or Dad) is to find a way to repair your relationship with your Au Pair. I think that car accidents are to Host Mom-Au Pair relationships what funerals and weddings are to families– they are events that have either a negative impact or a positive impact, but never a neutral impact. No matter what the circumstances of the fender-bender, you're probably going to be ticked off, and she's probably going to be anxious, apologetic or in denial about the fallout. And, you'll be faced with the challenge of finding a way to forgive her.
I'm going to proceed with advice for a situation where there has been damage to both a car and a relationship. Keep in mind that before you consider what the damage is to your relationship and whether/how to address that damage, you have to get a lot of other things identified….
#1. Make sure that any legal/police related issues are addressed. Make sure the accident form is filled out, that appropriate information has been exchanged, and confirm whether or not your Au Pair or the other driver(s) involved received any tickets.
#2 Consider consulting with your local Community Counselor– she can help with the conversations, with agency guidelines, with advising you and/or the au pair, and with unfolding and supporting your action plan.
#3.  Decide how to manage the insurance claim and repair process. Who will pay for repairs, how much will be paid, and who will manage all the errands associated with getting the cars repaired?  [I'll try to get up some advice on that, right after this post.]
Now, move on to the really hard part….
#4.  Investigate and discuss the cause of the accident. Focus on the FACTS of the situation.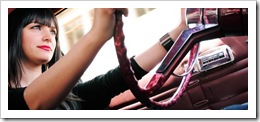 You need to know what really happened and your Au Pair needs to tell you about what happened, in a conversation that is about collecting information. You need to separate this conversation — which is all about FACT finding — from the conversation about culpability and responsibility. If you try to talk about facts and fault at the same time, you might directly or indirectly encourage the Au Pair to describe the accident in a way that makes her look less responsible for it.  We all would probably like to think we had less to do with causing an accident that what might really be true– so don't make it any harder to get the facts by being quick to judge her.
It might help if you and your partner or a friend have this conversation with the Au pair, so that you have another person to help you keep really calm and collected.
You might also need to consult the police officer/report, if there is one, and talk gently with the other driver(s) involved, if there are any, to get more information.
#5. Identify the problem(s) that lead to the accident. Focus on a diagnosis.
— Was she careless, tipsy, too many friends in the car, on the phone, in a hurry? These are problems with unsafe attitude.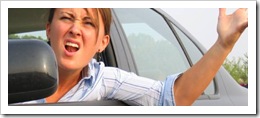 — Is she bad at K turns, a poor judge of distance, unable to modify her driving style for the weather, the terrain? These are problems of driving skill.
— Did she just not know how to respond to a situation? Was she too tentative and scared to respond well? (e.g., made an illegal U turn b/c she missed an exit) These are problems with too little driving experience.
— Was the accident in any way caused by what you asked her to do? (e.g., rush between  a drop-off and a pick up that are scheduled too close together, drive on a highway notorious for accidents). Was the accident in any way facilitated by something about your car? (e.g., bald tires, broken side view mirror, poor alignment, broken headlight). These are problems of your Host Parent system.
— Was the accident caused in any way by other drivers? These are problems that she/you may not control, but to which you must learn how to respond. But they are so varied that we'll just call them problems you cannot control.
Why does it matter that you figure out what kind of problems lead to the accident? You need to correctly diagnose what caused it, so that you can figure out what to do to prevent another accident and to have both you and your Au Pair learn from this situation.
#6.  Assess the damage to your feelings about your Au Pair. Do you trust her judgement less now? Are you irked about how she is or isn't accepting reasonability or whether she is taking it seriously? Does she seem disinterested in making changes? You need to get a handle on your emotions and your specific disappointments. You will either have to address these in your action plan or manage them yourself.
#7.  Evaluate your Au Pair's level and type of responsibility for the accident based on the facts you have gathered.
Wait until after you have identified and assessed your emotions, fears, etc. to evaluate/judge your Au Pair. Car accidents are something nearly every host parent worries about, and they happen to the best of au pairs. Do your best to keep your anger or whatever from clouding your judgement about how much was her fault and how horrible was her contribution to the accident.
#8.  Figure out what you want to change– how you want her to change, how you might change, and how her duties, privileges and expectations might change — to address the root problem(s) that lead to the accident.
If it's bad attitude: Have a talk with her about responsibility and safety. Consider limiting her driving privileges until she demonstrates a different attitude. If the accident happened when she had the car for personal use, remind her that access to your car is a privilege, not a right.
Consider adding new rules (e.g., no more that 2 passengers, never on a highway, etc.)
If it's a problem of poor skills or driving experience: Get her driving lessons. Give her driving skill assignments. Quiz her on hypothetical situations and good responses. Be a good role model– be vocal about decisions you are making as you drive that help you drive more safely. Until her skills improve, limit the driving she does with your kids (if you can) AND see if you can find routes & itineraries that are less demanding of the driver (e.g., give her plenty of time to get from here to there).
If it's a problem of Host Family Systems: See what you can change yourselves. Get the car maintained. Adjust your expectations of how far, how often and how fast she must go in the car. Look over your orientation plan to make sure you teach her what she needs to know about driving in your town. Consider adding or changing guidelines around driving and car use. Prohibit using the cellphone while driving. Make her turn off the music in the car. Whatever it takes.
If it's problems you can't control: Do your best with what you can influence and reduce risk where you can.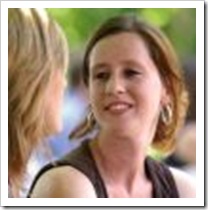 #9.  Have another conversation, this time about what needs to change and what needs to be fixed (as per above). Before you start, take a little time to put yourself in a positive and loving frame of mind. Remember you can't change the past, you can only influence the future… so consider what kind of host mom/person you want to be, what you want from your au pair in this revised relationship, and what kind of model you want to provide for your kids about handling disappointment, anger, and forgiveness. This is a chance for you to be the kind, loving, helpful, firm and fair host mom that you really want to be. Be ready to talk about your feelings and the effect of the accident on your attitude towards her. Keep in mind that her attitude and expectations are being adjusted too– ask her how she's feeling and what she might want to change.
I wish I had better advice on how to do this. In the meantime, check out the website Conflict Zen. The author, Tammy Lenski, is a professional mediator and has a lovely approach and attitude about how to turn a conflict into a learning opportunity.
#10.  Figure out what you need to do to learn from this situation and to forgive your Au Pair.
Yo, I know that none of this is easy. Every host mom knows that. And it could all just explode, deteriorate, or lead you to give up. This is serious stuff. All of the above is advice off the top of my head– we all make it up as we go along, drawing from our own experience, … doing our best. So do your best. Which of course you will.
More ideas? Please share them in the comments, below….