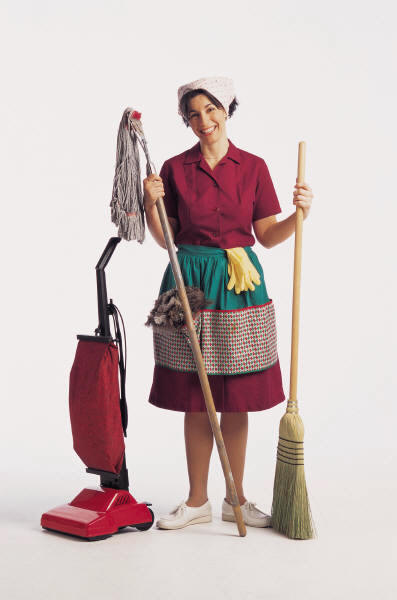 As I was staggering down the stairs to the laundry this morning, burdened by my armload of bedding from the Au Pair room, I remembered an important part of preparing Your Au Pair's Room. This important item is "Transition Cleaning".
Transition Cleaning
When your Au Pair arrives, it's nice to have the Au Pair's room clean, fresh, and ready for her to move in. So, every time we get a new Au Pair I do a huge 'transition cleaning' of the Au Pair room. Our previous Au Pair has departed :-( and our new Au Pair has yet to arrive, so I am using this time to do a complete cleaning of the room.
Every year, as our departing Au Pair packs up her things, I ask her to do a "super cleaning" of the Au Pair room. Even though our departing Au Pair left the room really clean (Thank you sweetie!!), there is still some dirt that even the most conscientious 20-something will miss. And if your departing Au Pair wasn't conscientious, then you really need to save some time to clean.
Laundry, laundry, laundry
Transition cleaning includes (and sadly is not limited to) washing all of the linens. And I mean all of them– mattress pad, chair slipcover, pillows, curtains, towels — everything. I want them all to smell fresh and clean.
The size of my load of laundry is due in part to the laundry items that I just don't want the Au Pair to wash, including the comforter, duvet cover decorated shams and dust ruffle. I've lost a few nice woolen blankets and a pretty quilt to the well-intentioned laundry efforts of departing Au Pairs, and so I do these on my own so that if they fade or shrink it's my fault.
Other obsessive cleaning tasks
As part of transition cleaning I do all those crazy things like dust off the slats of the headboard, vacuum out the dresser drawers, vacuum the curtains and the windowsills, scrub stains off the rug, flip the mattress, and make sure that there are some thumb tacks on her bulletin board.
I erase all the personal files of the departing Au Pair from the Au Pair computer.
I also check various music systems for CDs left behind.
Refreshing and renewing the room
Each year, if I can afford it, I buy one new thing or replace one item in the Au Pair's room. This way I keep the furniture, linens, and decoration in reasonably good shape without having to spend a whole lot of money to replace everything at once.
I make sure that all the linens are in decent shape, and that our Au Pair has two sets of sheets, a winter blanket, a summer blanket, & three or even four sets of bathroom towels (often with extra washcloths). I forget how long it's been since some of these items were purchased!

As part of welcoming our Au Pair and helping her settle in, I ask her to go through our spare pillows and choose the pillows that feel most comfortable for her. Personally, I hate an uncomfortable pillow. I feel really much more at home and able to sleep when I have a few pillows that feel 'just right'. Yes, it is the Goldilocks strategy– and it works.
[Note: if you are overlapping Au Pairs, it's a good idea to let the new Au Pair move right into the Au Pair room. It's likely that she is more anxious and more tired then you're departing Au Pair, and your departing Au Pair is better able to take care of herself in your guest room or on the foldout sofa in the playroom.]
Yes, I know this may seem obsessive. It works for me, but your mileage may vary.
Is there anything else that you recommend for refreshing the room for your incoming Au Pair? Let us know in the comments, below.