Back when you were deciding whether to get an Au Pair, you might have encountered some resistance from your potential Host Dad.
"I'm not sure I want someone else living in our house."
"Isn't it just easier to hire a bunch of babysitters?"
"Maybe you should cut back at work."
"Why can't the kids just watch more TV?"
We've heard it all, and more.
If you've been paying attention, or even if you've been trying to ignore it, you've probably realized that Host Dads can be afraid. Very Afraid.
But just what is it, exactly, that Host Dads are afraid of?
I conducted an informal survey of several Host Dads of my acquaintance and discovered that to a man, they are all afraid of the same three things about having an Au Pair. These are….in descending order…
Fear #3. Host Dad's afraid that he'll have to deal with having other guys hanging around the house (when he's not around, when he is around, when you're home alone, whenever….)
Sexist as it is, men still think of their home (your home) as "their" territory. It's theirs, and they don't want to have to share it with anyone outside their clan.
Host Dads worry that an Au Pair might get a boyfriend or two or three, and that these boyfriends will end up hanging around in your his house. Having another guy in the house who isn't their brother, dad or father-in-law, is like having some other big dog walk across their lawn. Guys just don't like it, even if the dog is on a leash.
How to manage this fear:
Make some rules about when male visitors are and are not allowed in your home– if they are allowed at all. You might base these rules on what you imagine you'll want for your own daughter (or your son's girlfriends) when she's a teen. Check out the Au Pair Guidelines for some suggestions.


Fear #2. Host Dad is afraid that the Au Pair will smash up the car.
Men care about cars, men care about high ticket family items, and men care about safety. Put these three concerns together, and you've got a man who is nervous about what that 20 year old is going to do with the second car. Heaven forbid she smashes it up, just before you were leaving on vacation!
How to manage this fear:
(1) Make some rules about safe use of the family automobiles. Check out the Au Pair Guidelines for some suggestions.
(2) Give your Au Pair formal driving lessons.
(3) Have Host Dad ride in the car with the Au Pair to assess her driving skills and to give her pointers. Do not allow her to use the car unless you are satisfied with her driving skill.
Okay, so those two fears can be managed by thoughtfully developing and applying Au Pair Guidelines. Unfortunately, the Number 1 thing that Host Dads are afraid of cannot be managed by Au Pair guidelines alone… because what Host Dad is really afraid of, is simply this: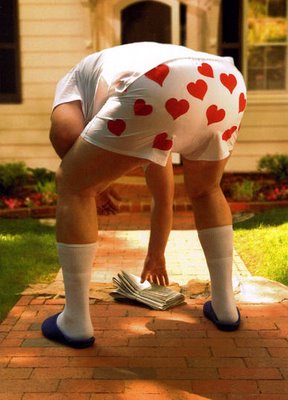 Fear #1: Host Dad is afraid that he can't walk around the house in his underwear.
Yes Moms, that's what it comes down to– he's afraid that having an Au Pair is going to cramp his personal "style". And he's right, it will.
— Attention Host Dad!! —
You can't walk around the house in your boxer shorts anymore! And you certainly can't walk around naked. Get used to it.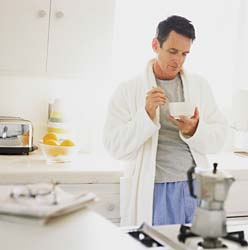 How to manage this fear:
(1) Buy him some new underwear. Buy him new pajamas. Buy him some groovy guy yoga pants from Old Navy. Maybe even buy him a bathrobe. Then,
(2) Tell him that, in his new p.j.s, he looks totally hot. And finally,
(3) Recognize that recommendation #2 will address what Host Dad is *really* afraid of.
Don't pretend you don't know what I'm talking about.
Comments? Other "fear management" techniques? Share here…..
Technorati Tags: Au Pair, aupair, advice, host dad, host mom, rules, guidelines, cluster meeting

aupair