[Help me find our 100th Host Mom subscriber!]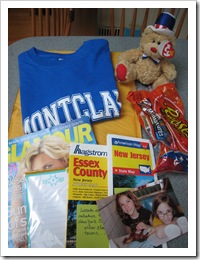 Almost everyone loves to get presents and almost everyone loves to get mail. Put these two things together by sending your au pair a welcome package, and you're probably going to make her feel happy, welcomed, and maybe even special.
Once upon a time, when I thought that I was the only host mom who'd ever had this idea, I imagined that our au pair might feel a bit special relative to au pairs who didn't receive packages or phone calls. [Note: Rayann tells us in the comments, below, that Au Pair Care specifically disallows packages for this very reason! Check out her suggestions.]
More recently, I've learned two things:
(1) Many host families send letters, postcards, flowers, and/or packages to help welcome their new au pair, and
(2) I don't ever want to rely on making my au pair feel good because she is comparing herself to someone who's without in some way or another.
Still because I personally love to get presents and love to get mail, I've stuck with the welcome package idea. I think a welcome package is one tangible way to help your new au pair feel welcomed and to generate some excitement for her. Putting the package together can also be a fun activity for your kids … I've had mine help me pick out all sorts of treats and toys, which has help them feel generous and welcoming themselves.
What might you include in a welcome package?
Above is a photo of the contents of a welcome package that I sent to one of our au pairs.  It included many of the things I've sent before, like:
Some candy (just a few tasty treats). Send enough that she can share with some of her new au pair friends.
A "town spirit" item: some kind of clothing with the name of our town or our children's school
A cute stuffed animal (in this case, a USA Beannie Baby)
Something silly and fun to read in English and to get her acquainted with pop culture — here, a Glamour Magazine, and in previous years a few back issues of People
Some memo pads, post-its, or small notebook to jot down information about new friends
Tourist information about New York City (because au pairs often go on a New York City trip either during orientation or some time during their au pair year)
Information about our town — sometimes, the arts section of our local newspaper, or one of those annual booklets that merchants put out that lists all of the restaurants, cute shops, and monthly activities that go on in town
A phone card for making a few long-distance "I'm really here!" calls to home
A photograph of the girls, our dog, or something else we hope she's looking forward to
A few maps of our town and our state. You'd be amazed at how much it helps au pairs at orientation to be able to locate where their new friends are going to be, relative to their own host family's town.
A handwritten note from me, and sometimes cards from my children.
How to mail the package
I found that I have to go the extra mile when I make plans to mail the package, because in previous years I've had some packages get lost and some packages not make it to the au pair until the last day of her orientation, when it's almost too late to make her feel special. Please learn from my mistakes, and consider the following suggestions!
Mail the package directly to the orientation hotel.  You can usually get the address of the orientation hotel from your au pair agency.  If you have her e-mail address, send your au pair an e-mail to let her know to look for a package.
Address the package to the au pair, care of the agency, with the hotel address.  Also, write on the front of the package  "Guest (au pair name) will be arriving Sunday night (date), with (name of agency)."
Mail the package several days before orientation will begin, because you don't want to spend $18 to overnight mail a package that's filled with only $15 worth of stuff.
On the day that you expect the package to arrive, telephone the hotel front desk, and tell them to be on the lookout for the package.
Telephone your au pair at the hotel, and tell her to be on the lookout for the package.  Confirm that she got the package when you talk with her during orientation.
Other tips  

I've heard of only one bad idea re: the welcome package, which prompts this last tip:
Do not use this as an opportunity to get rid of one of your kids' random, too-many stuffed animals. One of my friends did that, and it completely escaped her that the animal would come back to their house, and she'd have to explain this to her son. That was an interesting story…
Other thoughts
It's been fun to pick up our au pairs at the airport and be able to pick them our from afar because they are wearing the 'town spirit'  item we sent them in their welcome package!
It may also be a little too much to give her presents when she has just arrived, but remember that your au pair comes with gifts for you from her home country.
Anybody have some suggestions on things to include? Any insights or downsides? Share them, below!!
Technorati Tags: au pair,aupairs,au pairs,advice,host mom,host family,orientation,relationships,childcare