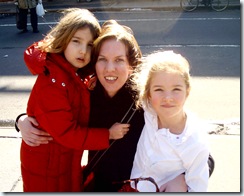 Marguerite, a community counselor, sent me this great idea she got from one of her host families.
The family leaves a camera at home with their aupairs with instructions to take candid pictures of their kids whenever the children are doing something particularly cute or fun.
This way the parents get to see some of those special moments and the aupair and the parents bond via these shared moments.
I love this idea. I can't begin to describe how much I treasure the kid photos and collages that Au Pairs have given me as gifts. There is something pretty wonderful about seeing your (adorable) child having fun, even if especially if the fun has happened without you. :-)
Any fun ideas for your Au Pairs? Send your tips to Mom@AuPairMom.com ! Thanks Marguerite!
Technorati Tags: au pairs,aupair,au apair,childcare,advice,photographs