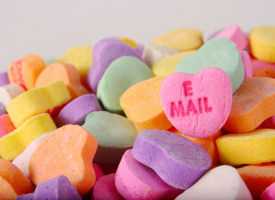 If I were an Au Pair, I think I'd be more excited (and perhaps less worried) about leaving home for a year if I knew that my host family was excited to be welcoming me into their home. But, how would I know? I haven't talked to them since we matched! That's why, around 4 weeks before your Au Pair departs for the USofA, you should plan to send her a "Before You Leave Home" e-mail.
Reconnect
The e-mail is primarily a way to reconnect with your incoming Au Pair and to move your relationship with her from 'standby' to 'now boarding.' All the you need to do is say "Hi! We can't wait 'till you arrive!" But, as long as you're sending an email, why not make it something more? You can…
Answer Her Questions
Ask your incoming Au Pair whether she has any new questions about your family, your town, her situation, etc. You can set her mind at ease before she actually gets on her plane. For example, this is a good time to check that everything is underway with her getting her visa, getting her medical records in order, and making her travel arrangements. She might want to know how your children are coping with the impending departure of your current Au Pair, or whether any new Au Paris have moved into your neighborhood, or whether there are any Au Pairs from her own country or language group in your cluster. Maybe you could even send her a local Au Pair's email address…
Offer Your Advice
This email is your opportunity to ask your Au Pair to bring things that you've discovered she might need. Does she need to bring her flute? Is a good idea for her to buy a digital camera (yes!)? Does she need to bring a camera for the computer so that she can use Skype, or do you plan to buy one?
Suggest What's Ahead
You can also use this email to prepare her to ease into your family's world.
Tell her a little bit about how the children are doing and what they are looking forward to regarding her arrival.
Tell her what the weather is like (Yes, really. Help her shift from Celsius to Fahrenheit!)
Give her a sense of what the first several weeks with your family might be, and what her schedule might look like.
If you can, tell he when her first day or weekend off will be. Maybe she can make plans to meet up with new friends from orientation…
Especially when an Au Pair arrives in the summer, she's stepping into a crazy scheduling situation with her new host family. In the summertime, our kids shift from one day camp to another, we spend some weekends at the shore and other weekends visiting friends, and even I can't keep track of the family schedule unless I'm staring at the calendar… Prepare her in advance so she won't be too surprised.
What other things might be useful to tell her, to help her get excited?
Finally, it can be fun to send some photographs of the children right now, so that your new Au Pair can see what they look like. Just having some smiling faces can help to remind her of what her year-long adventure might bring.