To everything, there is a season.…. this was true of your relationships with your college boyfriends, and it's true of your relationships with APs.

Every AP relationship follows a predictable pattern– the anxiety of selection, the celebration of finding someone, the anticipation of her arrival, the chaos of orientation, the ease of the cruising time, and the difficulty of detaching to say goodbye. I like to break these into 4 Seasons: Before, Beginning, During, and Ending. Okay, so those labels aren't very creative; but they'll do for now.
It helps to remember that there are particular activities and emotions that go with each cycle. Knowing in advance what you might need to do in a certain phase of the cycle keeps you organized and more or less in charge of it. Considering in advance how you and your AP might feel during that phase helps you anticipate and work with whatever else might jump out at you.
Because it's springtime, most HM are dealing with either the Beginning or the Ending phases- sometimes both at once if you are getting a new AP while saying goodbye to your current one. Because my neighbor MT is getting her first AP this month, and because I promised her that she and her girls will love having an AP, I want to start with advice for Beginning an AP relationship.
Technically, the Beginning is actually a little too late for thinking about how to 'start' your AP-HM relationship– you've already set a lot of it in motion in the ways that you selected your AP. Still, the Beginning is when you still have a relatively blank slate; you can make this relationship great.
The Beginning phase covers the first 4 or 5 weeks of your AP's year. It includes these challenges/tasks:
Welcoming your AP
Orienting your AP
Training your AP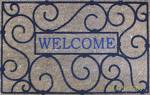 Each of the challenges in The Beginning have their own specific events attached to them. If we start with Welcoming your AP, this includes
— Sending her a 'just before you leave home' email
— Sending her a package at Agency Orientation (at the hotel)
— Calling her at the Orientation hotel
— Greeting her at the airport, train station or orientation site
— Bringing her to your town/ house
— Having her room ready
— Having a plan for the first few days
Are there any big activities or goals that I've missed here? Let us know in the Comments section, below.
Geez, who knew there was so much to simply welcoming your Au Pair? Well, there doesn't have to be– there are lots of ways to approach the challenges of making her feel welcome. Keep a good spirit in your heart, wish her the very best, and be optimistic. Consider this list (and all the others to follow) as the 'superset' of options and choose the ones that work for you.

Your challenge is to think about:

What would you like your AP's first impressions of your family, and you, to be?
If you were 22 and from another country, what would a warm welcome look like to you?
Tell us what you think, below.
Next up: The 'B4 you leave home' email.