What do you know about Thanksgiving?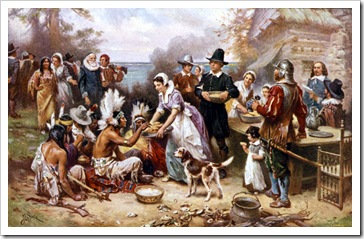 The AuPairCare website for Au Pairs has a fun little activity for Au Pairs celebrating Thanksgiving with their host families. If you haven't seen this yet, you might want to suggest it to your au pair, or just play it with the family yourself.
First, visit this website for a fun video about the history of Thanksgiving:  http://www.history.com/minisites/thanksgiving/. Then, give everyone a mini-quiz!
You probably won't even need to see the video, since these questions are kind of easy– but you can make up your own questions and really ramp up the challenge.  Scholastic Books has a site (www2.scholastic.com/browse/collection.jsp?id=47 ) with lesson plans about different facets of the Thanksgiving holiday, for those of you who are really ambitious.
Who'll do better, you or your 7 year old???
In 1621, the _____ Colonists and the Wampanoag Indians shared an autumn harvest feast which is acknowledged today as one of the first Thanksgiving celebrations in the colonies.
During the _________ Revolution, a yearly day of national thanksgiving was suggested by the Continental Congress.
In 1863, President ________ ________ appointed a day of Thanksgiving as the last Thursday in November.
Americans eat 45 million pounds of _______ on Thanksgiving Day.
In 1920 and in order to raise a better following of the sport, ______ was played (& still is) !!
Originally known as a Christmas Parade, the ______ Thanksgiving Parade began in 1924 and featured animals from Central Park Zoo.
Department Stores use Thanksgiving Day as a kick-off for Holiday _______.
The average number of calories in a 1/2 cup serving of mashed sweet potatoes is _________.
Green-bean, mushroom soup and crispy fried onions casserole is popular because _________. (Anyone know?)
Why do Canada and the United States celebrate Thanksgiving on different days?
Why do we start watching movies about Christmas on Thanksgiving?
College & Pro football games can get very boring for those who haven't grown up with the game. If your au pairs is a 'true' futbol (i.e., soccer) fan, she might be mystified by the whole tradition family football noshing. You might think about how to make it a real 'cultural exchange', by offering your au pair some tips on how to watch football. (Check this funny article: http://voices.washingtonpost.com/achenblog/2006/09/how_to_watch_football.html .)
3. Make today's childcare more fun!
If you are asking your au pair to be 'on duty' and watching the kids for part of the holiday, think about ways to make that a bit more fun for her, so that it feels festive and special to be with the kids. One idea is to check out a holiday crafts website, purchase (ahead of time) the right colors of construction paper, and have your au pair lead the kids in a craft.  My personal favorites are the paper turkeys with what you're thankful for written on the tail feathers (see previous post). These can also become great souvenirs for your family and your au pair, marking a special American family day.
http://familycrafts.about.com/cs/thanksgivingtheme/a/101600a.htm