If you have both little kids and an older Teen, what are the things you need to consider as you plan for your Au Pair?
Carrie asks,  because she and her husband are expecting a new baby, for whom she'd like an au pair caregiver. The challenge is that Carrie also has a son from a previous marriage who will be 16 when the family plans to welcome their au pair.
Carrie has two general concerns about having an au pair that are specific to the family also having a teenage boy: Car Sharing and Room Assignments.
Since there are so many things to consider, let's try to take them chunk by chunk–
Car Sharing with A Teen-Age Host Kid

Since we will have an infant and there is a park withing walking distance, we don't expect that there will be much need for the Au Pair to use a car for work duties. We are hoping that it's acceptable to have a "junker" (but still reliable) car that she can use when she is off-duty, and which she will share with our 16 yr old son.
(Right now our son is actually more interested in video games than much of anything else, so I don't foresee time sharing of the car being an issue at the moment. But, I'm thinking ahead.)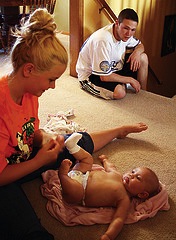 Room Location: Privacy for Au Pair or Teen?

We have a few options for which bedroom/bathroom our au pair could have. In our basement, we have two bedrooms: one is currently my son's, which he has had since we moved in to the house. The other bedroom is really small, so we've made it an office. The basement has its own bathroom with a shower.
Upstairs we have the parents' room (which has it's own full bath). We have two bedrooms across the hall from ours, and a bathroom on this same floor with a tub (which anyone in the house could use). We're planning to use one of thee bedrooms for the baby, the other is currently a guest room.
Our options include:
1. Putting our son on the second floor with us, and the au pair in the basement with her own bath OR
2. Having the au pair take the smaller bedroom downstairs (currently the office) and share the bathroom downstairs, OR
3. Having our son keep his room downstairs, and have the au pair take the 'guest room' on the second floor across from us.?
Do I displace my son from the basement so the Au Pair can have her privacy? How do I respond to our son's need for privacy? Do I ask her if she wants to have the office instead of a room upstairs and let them both be on the same floor?
Maybe a Manny with a Teen Age Boy??
(In response to my/CV's question about a "manny"):
My son, so far, hasn't had much interest in girls (it's all video games right now). We are aware that this is likely to change in the near future. We are looking for an au pair who is slightly on the 'older' side, and so we imagine that there won't be many complications for our teenage son with the Au Pair, other than basic privacy concerns.
We have considered (and would still consider) a male Au Pair– my concern is that searching for a male Au Pair might limit our options for a good match and infant experience. I'd love readers' thoughts on that.

Other Considerations
And overall, how do other Au Pair host parents feel something like this works when you already have a teenager in the house? Is there anything I haven't thought of directly related to this situation? We'd appreciate any input– Carrie