Hi Host Moms-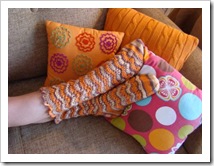 We've gotten a request for advice, from KT_VA:
We have an au pair, who takes care of our 6 month old. Today I came home to find my daughter sleep upstairs, and the au pair on the computer instant messaging her friends, with the baby monitor off.

20 minutes later, I heard my daughter wake up and start crying. I waited to see if the au pair would react and when she did not, went and told her to never sit with the baby monitor off.

I'm thinking about banning her computer usage during work hours, but is that going too far? My daughter sleeps a fair amount during the day, leaving the au pair without any real duties per se…

But then again, she is on duty…
KT_Va, I think that you have two issues going on here…
(1) Your au pair was not putting your daughter's needs (and her own responsibilities) ahead of her own personal things, and
(2) she was engaged in instant messaging, etc. on the computer.
IMHO, the real issue is #1– not only was your au pair not paying attention to the baby, but also she had the baby monitor off– so there was no way she would have known if/ when your daughter needed attention.
I think that you were smart to wait and see whether the au pair would hear the baby (without the monitor) or whether she would get up and go to the room to check on the baby directly. By waiting, you were able to confirm that she was missing your baby's cries and possibly the baby's needs. Also, you were able to give your au pair some quick, accurate feedback to show her that she was indeed missing something important. And, you were able to show her exactly what was wrong (monitor was off) and tell her what was needed (monitor on). As far as giving her the important message and giving her direct and actionable feedback, your 'wait and listen' strategy was effective.   
Some might think that you were sneaky and 'waiting for her to fail' or to 'catch her in the act'. However, it is more effective to correct someone right after something like this has gone wrong, when all the evidence is there. If you were to bring it up more abstractly in a weekly meeting, it might feel just another correction, when in fact it's about your au pair's primary role– watching the baby!
Now, your au pair could have been doing any number of personal things – showering, napping, reading or painting her toenails – with the monitor off and with her attention on her own stuff and not on  the baby. So it's not as though the computer itself is the problem. It's the symptom.
The "problem" is– what's sensible to ask an au pair to do when the child is asleep (or occupied in a play date, or having her piano lesson) or doing anything else where direct, constant au pair attention is too much. I have gone back and forth on this– especially as my girls have gotten old enough to entertain themselves, they don't need an au pair sitting in the playroom watching them and their American Girl dolls. But at the same time, I don't want the au pair in her room on the 3rd floor, either.
So, often I try to find some kind of 'kid work' that she can do that is easy to interrupt when she needs to check the girls, and that is not so mentally absorbing that she forgets all about the girls. Sometimes I ask our au pair to do the laundry and bring it into the playroom where the girls are when it's time to fold clothes. I've also suggested that she do some ironing (hers or theirs) in the laundry room next to the playroom– within earshot. Or, if she's upstairs in the kitchen cooking their supper, I ask her just to listen from the top of the stairs every fgew minutes and maybe go downstairs every 20 mins or so (just often enough that she can norive and intervene if they are squabbling). [[ But who knows if she actually does this– since, truth be told, i don't always pay that close attention when I'm 'on duty'. Then again, it's her job to mind them first, while it's my job to run the whole world our home, etc. ]]
I have also asked our au pairs to do the girls laundry when the girls are sleeping or napping and the au pair is on duty, to read parenting/childcare articles and chapters in books, and to reorganize the art supplies too.
But, there is still time when she has nothing pressing to do for the girls– and then what? How much do you have to remind any childcare provider that there job #1 is keeping an eye on the child/ren?
Your Thoughts, Moms?