Hi Host Moms-
Will you help me find our 100th Host Mom subscriber?
So far, we have a great group of host moms reading AuPairMom. Several of you have commented, sent questions, and helped to focus the conversation. But, I think we still need a bunch more moms to really get things rolling…I'm hoping that if we can get the subscribers up to 100 Host Moms , we'll have all the energy we need to sustain a lively & helpful conversation.  Plus, sooner or later you're going to get tired of my opinions and want to hear from more Host Moms…
I'm ready to offer a small prize to both the 100th subscriber AND the Host Mom that refers her to the site!
How can you help me find more Host Moms?
You probably already know some Moms (and Dads) who have Au Pairs or who are thinking about having an Au Pair… and probably a friend who could really use an Au Pair. Send them an email and invite them to visit here!
Here's what you can do:
Send an email to any Host Moms you know, telling them about AuPairMom and inviting them to check it out.
'CC me ( at Mom"at"AuPairMom.com) so that I know who sent emails to whom. [My husband reminds me to tell you that I will not spam your contacts.]
Cross your fingers and wait to see who's #100!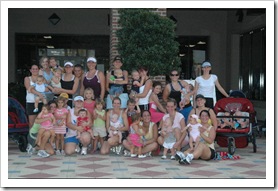 To help you out, I will:
Offer a draft of an email invitation, with all the pertinent info (see below)
Add an invitation banner to the top of the blog asking folks to subscribe
Try to write some funny & helpful posts for the next few weeks
Write about any crazy story, any pressing question, or any insight that you suggest to me
Keep you updated as the numbers climb
=> Check out the draft email, at the end of the post, for a starting place.
=> Also, let me know if you think of other ways I can find more subscribers! (Have you figured out yet that I'm  making this up as I go along? Ideas welcomed!)
Oh, and about the prize– a copy of one of my favorite mom or parenting books (see the amazon widget on the right)!
(It's a small prize since this blog is, as you know, not a profit-making gig. But you'll like it.)
Thanks for helping and here's to the 100th Host Mom!
CV, the mom"at"AuPairMom.com
p.s. photos are of random, happy women I found by Googling "happy moms"
 Dorky yet adequate draft of an email to send to friends:
"I want you to check out a blog that I think will interest you: www.AuPairMom.com.  It's a blog of advice, insights, tools and support for Host Moms who want to have a great relationship with their au pairs. Check out the site, skim a few of the posts, and see if the conversation interests you. If it does, you can sign up for an email newsletter that will arrive in your mailbox whenever the blog is updated. It's easy to sign up and it's easy to unsubscribe too. Come check it out: www.AuPairMom.com. "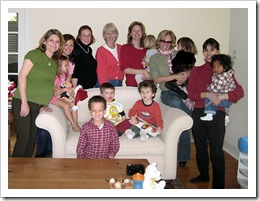 Technorati Tags: au pair,au pairs,aupair,advice,childcare,host moms,contest