Few events clarify the gap between how working parents and their school age kids respond to changes than the announcement of a snow day.
When I was little, I thought snow days were magical.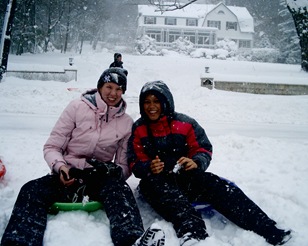 An overwhelming amount of snow combined with a day off from school seemed like a gift from the heavens — to me.
Not so to my single working-outside-the-home mother.
She'd be left scrambling, looking for a high school student or neighbor able not only to keep an eye on me and my sisters, but also willing to deal with the snow pants, sleds, freezing fingers and clamor for hot cocoa that always, always goes along with a snow day.
Snow Days are magical moments for appreciating the flexibility of au pair childcare. 
With your au pair right there, no one needs to dig a tunnel through the drifts to your house so that your kids can be cared for while you look for your other snow boot and wonder how late the train will be.
Help Your Au Pair Make The Most of a Snowday
Gently ask your Au Pair to change her plans.
Re-jigger your carefully-composed au pair schedule to carve out hours from somewhere else in the week. Maybe you can give your au pair some different time off, that might feel like a treat.
Make sure you have a saucer or sled big enough for kids AND a grown up.
Tell your Au Pair where in the garage the sled might be found. It will not be where it's supposed to be.
Buy your sled in August when Costco actually has them in stock. Don't wait until the day it snows. (Please, please learn from my mistakes, people.)
Teach your au pair the 4 different ways to make hot cocoa (with swiss miss, cocoa powder, chocolate syrup or — in a pinch — your stash of emergency Dove bars.
Prepare your Au Pair for the CONCEPT of a Snow Day
It's important (if you live in a 'snow possible' area) to tell your au pair about snow days and let him know that, should one occur, he might need to change his plans for that day.
[See: 10 Days of Work that Might Surprise Your Au Pair ]
Oh, and let your Au Pair know to plan  NOT to drive the car.
Snow days are also one of those events that can become a cultural exchange moment.
Culture is revealed often revealed by the exception, the rare day, when 'normal' breaks down.
Imagine all the different things you might tell  SwissAuPair, who asks:
 Why are so many schools closed when it is snowing? (I was an Aupair in places with permanent snow from october to april, no snow-days). I think it is for safety reasons, but why is snow in some states "safer" (no snow days) than in others (snow days because of a centimeter of snow)?
I would be so happy if someone could help me understand. I would by the way love snow days, so many funny things to do with HK!
How to explain this all?
See also: Do you let your Au Pair drive in the snow?
Celebrate Your Au Pair's First Snowfall!