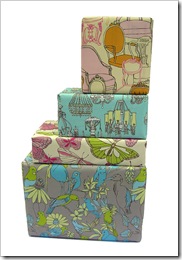 Every year about a week before our au pair is set to depart, I realize that the scrapbook/ iMovie/ slideshow/ MixCD that I'd been fantasizing about making her will remain just that– a fantasy. I think that, because I dread saying goodbye to our au pairs, I put off until the last minute getting her something special to remember us by. But, over the years I have come up with a few happy gifts, which I hope our au pairs have treasured as much as we all have treasured her year with us.
Probably the very *best* gifts are something made by you and/or your children!!  Keep in mind that the "perfect" goodbye gifts are easy to take home, personal, long lasting, and easy to use/display. The most popular goodbye gifts are Jewelry and Photos, followed by Money and the ever popular "Miscellaneous". Here some suggestions in each category.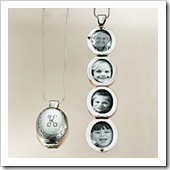 Jewelry
Silver jewelry seems to be relatively inexpensive, easy to find, and pretty. Consider:
– Necklaces or pendants with hearts
– Charm bracelets
– Lockets with the kids' photos
Many kinds of jewelry can be easily engraved….with a favorite phrase or even "world's greatest au pair" or "always in our hearts". The Lillian Vernon catalog seems to have many choices that are pretty, reasonably priced and reasonably well made. And there is always the jewelry counter at TJMaxx…
Photos
– Scrapbook or CD with all the photos you've taken of the au pair with the kids, including some family photos from special events like Halloween, Thanksgiving and vacation. Also, some shots of favorite places around town
– Copies of kids' school pictures
– Special photo of the kids holding a "goodbye, we love you" hand-made sign
– Photo collage page (cut & pasted or done on the computer)
– CD with a slideshow, captions, narration, whatever your kids know how to do
– DVD with mini-video clips
Money
Often au pairs have spent almost all of their money during the year, and almost always they wish they had a little bit more to take home with them. We have occasionally given great au pairs a bonus cash gift, between $100 and $300. (Back before the minimum wage was raised, when pocket money was only $140/week, I'd put aside an extra $10 per week, and use that for Christmas and Goodbye bonuses. Some might argue that you get more out of a bonus given during the year…but of course that's not the reason behind a goodbye gift).
Miscellaneous
– Silverplate picture frame, engraved, with a photo of her and your kids
– Personalized duffle bag that she can stuff with all her new clothes and take home on the plane
– Thermal coffee mug that has been personalized
– Any of those personalized gifts that your kid's preschool sells as a fundraiser
– Gift certificate for local restaurant, so they can take friends out for a goodbye dessert
– Webkins, Beannie Babies and other toys just like the ones she gave your kids or that your kids love
– Her own copies of your family's favorite children's books, so she can read them to her own kids some day
– Copies of your lullaby CDs
– Mix tapes of all the songs she and your kids listened to while they cleaned up the playroom
– Copies of the au pair handbook, your parenting guidelines, etc.
– A book of favorite family recipes, plus U.S. measuring cups and spoons
– Engraved keychain
– ANY version of High School Musical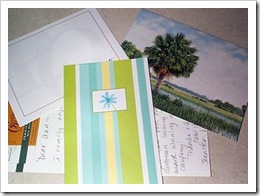 The best gift of all? Memories
For me, the most important gift that I have been able to give an au pair is a little note, card or letter that captures a few special memories from my host mom point of view. In these notes, I've thanked our au pair for specific gifts, times, and events that she's shared with the family. For example, in one au pair's card I thanked her for her extra loving and comforting of my children the day I had to tell them that their grandfather had died. I've also tried to articulate some of the things I've learned from her and we've learned together.
Reminding an au pair of the specifics of why you treasure her gives her something that can't be matched by any object.
What kinds of things have you given to your au pairs as goodbye gifts?  Add your suggestions by commenting, below, and then I'll put them all together in a revised list….
Technorati Tags: au pair ,au pairs ,aupairs ,gifts ,money ,goodbye