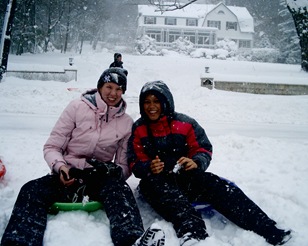 Does your au pair come from a tropical or always warm country? Do you live in a place with four seasons? If so, your family might get to share a real delight — you might get to see your au pair enjoy her very first snowfall!
Check out this photo of two of our au pairs (when overlapping ), both from South Africa, enjoying a blizzard!
If you come from a place where there never is snow (and, even if you don't) the first snowfall of the year can be magical. It turns adults into children, cynics into romantics, and good drivers into bad ones. (More on that later. Back to the romance…).
Another of our South African au pairs, CP, celebrated her first snowfall by putting on her bathing suit , standing in the 10 inches of snow in front of our house, and taking pictures of herself to send back home.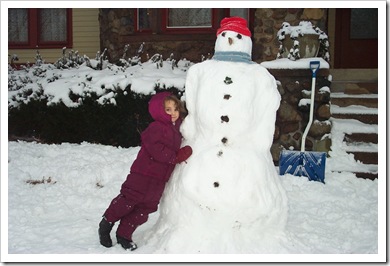 In contrast to the thrills of the South Africans, both our Estonian and Lithuanian au pairs had teasingly dismissive reactions: "What, this is a blizzard? You close school for only 5 inches of snow?"
It took you/me a lifetime so far to learn all these ways to enjoy snow, but your au pair only has this winter right now, so let's get going! Here are some fun things to do to help your au pair celebrate her first snowfall.
Take some pictures of her in the snow.
Show your au pair how to make a snowperson.
Stick a fluffy handful down the back of her collar (only if you have a good relationship).
Do NOT let your au pair drive until the roads are absolutely clear.
Explain the concept of "black ice" and show her some.
Ask your kids to explain to your au pair where snow comes from, and why it melts on your tongue.
Show au pair how to shovel the front stairs and clear the windshield.
Demonstrate the different techniques for a saucer, a sled, and a snurfer.
Teach your au pair how to put her feet into plastic bags before she puts on her/your snowboots.
Demonstrate how to "walk like a penguin" on icy sidewalks.
Ask your au pair to stand outside, totally still, to hear the snow falling.
Take her out to the backyard, and turn off all the outside lights, and just look.