Picture yourself in this room.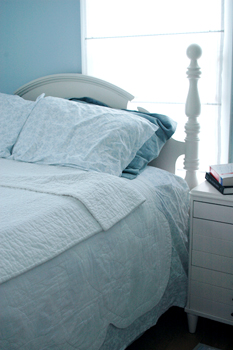 Imagine that you've just spent 8 hours with energetic kids, talking in your second language, driving on unfamiliar streets on the wrong side of the road.
Wouldn't it be lovely if you could walk upstairs, open the door, and step into a room like this?
It doesn't have to be fancy, it doesn't have to be big… but your Au Pair's bedroom should be a place where s/he can feel comfortable, rested and welcomed.
Guiding Principles for an Au Pair's Bedroom:
Your Au Pair's room should be a welcoming refuge– light, fresh, clean.
Your Au Pair should have the opportunity to personalize the room a bit to reflect her personality and tastes.
The room should have any and all electronic entertainment items that you can afford, so that your Au Pair can enjoy her leisure time and privacy.
The room should be supplied with any kind of item that makes it easier for her to keep it up to your standards. (e.g., Unless you want laundry on the floor, give her a laundry basket).

The room should be all hers. There should be no junk of yours or your kids taking up floor space or visual space.
Required Items for an Au Pair's Bedroom
Comfortable bed.
It doesn't need to be larger than a twin (although that would be nice) but it does need to have a decent mattress. If the mattress smells, is visibly dirty, or is lumpy, saggy and uncomfortable, replace it. Don't make the Au Pair sleep on a mattress that you would otherwise have discarded.
Clean pillows
Comfy chair
Dresser with drawers
Full length mirror
Desk & desk chair
Bulletin board with pushpins –Otherwise, be ready for scotch tape and pinholes all over the walls
Lamp for reading in bed
Radio/smartphone speaker/Alarm clock
Laundry basket
Wastepaper basket — a metal or plastic one, instead of a wicker one, because even if they know better, people will put wet items, soda cans with soda in them, and food garbage in the waste basket. Yuck.
Landline Telephone –even better if the phone's ringer can be turned off or set to low
Instruction manual for the telephone, voice mail, and wifi passwords
Window blinds or shades that work — All my Au Pairs have wanted to close the
shades and blinds when they dressed, and of course on the mornings they slept late.
Thick rug pad and rug –especially in areas where she'll walk a lot. Avoid being annoyed by footsteps upstairs!
Fire escape ladder –the kind that fold up and can be stored under the bed. Make sure you test it with her/show her how to use it, so that you know it fits on the window and extends long enough that she can climb her way to safety.
Nice to Have
A pretty calendar with kids' birthdays marked on it
Bookshelf –maybe with some books she might like, and/or your favorite parenting books
Television — if she's lucky, with cable
An electric fan
Computer with internet access –even better, with a camera and microphone so that she can use Skype to call home
A basket of cleaning supplies
A large supply of matching hangers and skirt hangers — These don't cost a lot of money and it's so much nicer to have hangers that all match, that don't get tangled, etc. than to have your leftover wire things from the drycleaner. While you're at Target, buy hangers some for yourself too!!
Mini-fridge — Some people have these, but we don't, since I'd rather not encourage our Au Pair to eat in her room.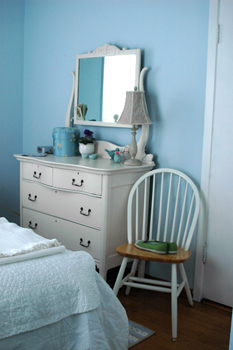 Other Tips for your Au Pair's Bedroom
Protect your wood surfaces. We have the surfaces of the dresser and nightstand each covered with a piece of glass (cut to size). The glass surface prevents most problems with rings from glasses, spills, and damage to the furniture surface itself. Also, it is easy to clean. Plus, these glass tops create another opportunity for your Au Pair to personalize her room —by putting photos, greeting cards and the like underneath the glass.
Protect your mattress. Use a mattress pad that can be easily removed and washed. Consider putting one of those water-proof crib pads underneath the mattress pad and on top of the mattress to protect liquids from staining the mattress. All it takes is one overturned latte, and the mattress looks really unpleasant.
One Host Mom I know takes her Au Pair to Target/Ikea, gives her a budget, and lets her choose her own comforter, shams, decorative pillows, and the like for her bedroom. And, when her Au Pair goes home, she takes the comforter with her…(though I don't know how the girls have ever had enough room in their luggage…..) .
Did I forget anything? What else would you add?