Common sense plays a huge role in how we function as adults, especially those of us with children.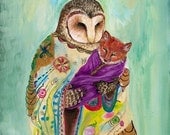 As parents, we know a late night out will cause us to pay double in the morning, because the kids' internal alarm clocks don't reset just because we've had no sleep. We know we need to think about what we say because we're living with human sponges who remember everything. We know we're responsible for our actions.
And so, how do we teach our au pairs common sense when it's lacking?
Recently, after an evening out (notice I didn't say "night"?), DH and I returned home to find the dining room table sopping wet. A child had knocked over a glass of milk, which spilled across the table. Instead of removing the tablecloth, our Au Pair asked the guilty party if there were another tablecloth. When she couldn't find one, our Au Pair left it in place, not realizing that the milk was slowly seeping across the table and into the crevices of the pad that covered it. Common sense should have told her to remove the table cloth and wipe up the mess and not to worry whether or not there was a table cloth.
Another time, our Au Pair was caught in a rainstorm with our special needs child. Instead of picking her up and running to the car, she walked her through the downpour. Although the child was wearing a raincoat (at least her teacher had common sense), our Au Pair was not and neither were the contents of the child's school backpack. Instead of unpacking the child's backpack when she got home, she didn't say or do anything.
DH, when he sought the notebook the next morning, discovered that it was ruined by remaining in the backpack overnight. In addition, a couple of articles of clothing smelled of mildew. (You might say it was our responsibility, but DH and I have asked our Au Pair to unpack said child's backpack every day.)
Recently, and even though the table next to the clothes washer reads "Wash towels without anything else once a week", the dear Au Pair just had to wear her brand new jeans, and so she threw them in. Because she had never done laundry at home, she didn't know that dark blue jeans bleed. Sigh.
I recall on this blog, a HM in a cold state complaining when an Au Pair's forgotten six pack exploded in the back seat of her car.
My LCC, when I complained, gave me wise advice,
"Common sense is not something that I have seen a rapid improvement in during the au pair year. It seems to be something you either have or you don't."
And so, DH and I have grit our teeth and decided to explain everything to our Au Pair. Because she needs to have every action spelled out.
For example, instead of saying "Please pack up the diaper bag," which we have typically done at this point for her predecessors; we mention everything that needs to go into the bag. Tiresome? Yes.
We're not good candidates for rematch. We have a special needs child that needs constant transportation and a typically developing child in way too many afterschool activities. And so, we're seeking your advice.
If you can't teach common sense, how do you bite the bullet and survive a year without it?
We've been gritting our teeth and trying to recall that while our Au Pair does appear to learn from experience, the lessons learned don't scale up – that is, she does take what she learned from one mistake, and sit and review what she's learned before plunging forward. DH and I spend a lot of time thinking through each situation for her, which is tiresome and makes us feel patronizing.
What are some common sense blunders you've experienced that forced you to rethink your relationship with your AP?
 What are your tips for surviving a year with an au pair who lacks common sense?
Image: Mother Owl, by Jahnavashti, available for purchase on Etsy