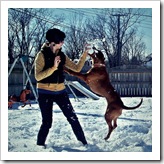 Hi Host Moms (and Dads) —
We just got this request from a host mom who'd like some suggestions. Here is her challenge:
We are looking to have some space away from our au pair on her time off.

I have heard of au pairs that go out with their friends, go out to eat on their time off, but ours hangs around the house esp on her full-day off, she has expressed that she is trying to save her allowance. I even got her a local gym membership so she would have a place to go. She often comes to us during her down time to socialize or ask us questions. In the beginning we were okay with this, but months in, as a family we really need our home to ourselves once in a while. I don't want to hurt any feelings. Any suggestions are appreciated.
I must admit, we have rarely had this challenge at my house. That may be because we live close to NYC and there is so much for an au pair to do, and it may be because we're no fun to be around …? But I can empathize– sometimes you do just need to be alone as a family.
It's a clever idea — and very kind– to have given her a gym membership. You are really showing her that you care.
Let's start by collecting ideas in the comments section, and I'll add them to this post so that we generate a list as we go.  Some of these ideas will be things you've tried, and things that won't work for you, but there may well be some ideas that *will* work!
1. Talk with her candidly about taking advantage of the gym as a place to meet other young people.
2. Give her clippings from the local newspaper with suggestions for free/low cost activities that might be appealing
3. Consider whether there something you can do in her room to make it more likely that she can entertain herself during her off duty time, in her own room
Moms? Weigh in below……